Hot off the Presses and ready to read!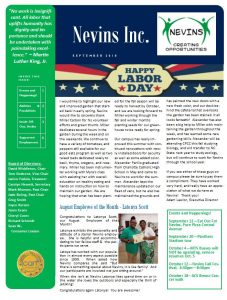 Nevins would like to sincerely thank Miller Carbon for his volunteer efforts and green thumb. Miller dedicates several hours in the garden during the week and on the weekends. We continue to have a variety of tomatoes, and peppers still available for our good eats program as well as two raised beds dedicated solely to basil, thyme, oregano, and rosemary. Miller has been instrumental working with Myra's class with assisting her with overall education on healthy eating and hands on instruction on how to maintain our garden. We are hoping that what has been planted for the fall season will be ready to harvest by October, and we are looking forward to Miller working through the fall and winter months planting seeds for our greenhouse to be ready for spring.
Our campus has really improved this summer with continued renovations with newly installed doors for security as well as some added color. Alexander Parillo graduated from Charlotte Catholic High School in May and came to Nevins to work for the summer. Alexander kept the maintenance updated on our fleet of vans, but he also has maintained the grounds and has painted the new doors with a new fresh color, and our deck behind the cafeteria that overlooks the garden has been stained. It all looks fantastic!  Alexander has also been a big help to Miller with maintaining the garden throughout the week, and has learned some new gardening skills. Alexander will be attending CPCC this fall studying biology, and will transfer to NC State next year to study zoology, but will continue to work for Nevins through the school year.
If you see either of these guys on campus please be sure to pay them a compliment. They have worked very hard, and really have an appreciation of what we do here at Nevins!   Thank you!
For more of the Nevins Newsletter download it here!