Upcoming Events
Check below for information on all the upcoming events. This page will be updated as new events come up.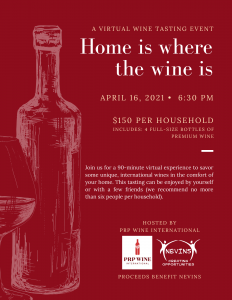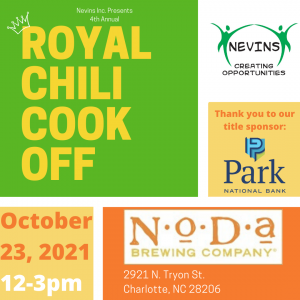 Home is where the wine is
Join us on Friday, April 16, 2021, at 6:30 pm to savor some delicious wines from around the world in the comfort of your own home. Invite some friends over to enjoy with you, though we recommend no more than six people per household. Tickets are $150 per household and include four full-size bottles of wine and access to the virtual wine tasting.
After you register, be on the lookout for your wine and pairing menu, which will ship ten days before the event. If you have any further questions, please email development@nevinsinc.org. We look forward to seeing you on April 16, 2021!
Wine can ship to: Alaska*, Arizona, California, District of Columbia*, Florida, Idaho*, Illinois, Indiana, Louisiana*, Michigan, Missouri, Nebraska*, Nevada*, New Hampshire*, New Mexico*, North Carolina, North Dakota*, Oregon*, Virginia*, West Virginia*, Wisconsin, and Wyoming*.
*Additional shipping fee to these states.
Nevins 4th Annual Royal Chili Cook-Off
Come and join us for our 4th Annual Royal Chili Cook-Off, October 23, 2021, starting at 12 pm. Competitors will be serving up 10 of the best chili dishes you've ever had paired with some of Charlotte's best local beer – all to benefit Nevins participants.
You will also receive an awesome event t-shirt, fabulous raffle prizes, and music, great company, and tons of fun. Also featured will be artwork available for purchase, created by our very own Nevins participants.