Upcoming Events
Check below for information on all the upcoming events. This page will be updated as new events come up.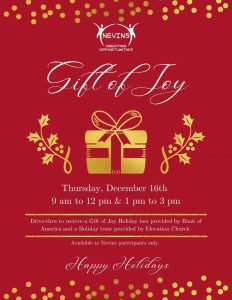 Gifts of Joy
We are excited to share that we are hosting Gifts of Joy event on December 16th. Holiday boxes are being kindly sponsored by Bank of America and a Holiday treat provided by Elevation Church. The gift boxes and treats will be handed out during two sessions (9-11 am and 1-3 pm) by Nevins staff, board members and volunteers in a drive-thru style so Nevins participants can receive them in an outdoor, COVID-safe environment. For more information: Director of Development Pamela Glass pglass@nevinsinc.org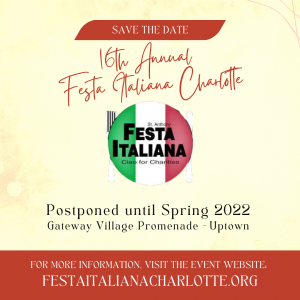 Charlotte's 16th Annual Festa Italiana
We are thrilled to announce that the 16th Annual Festa Italiana Charlotte is taking place on May 15, 2022 at the Gateway Village Promenade – Uptown.
This event is going to be an incredible evening, filled with the most delicious food and wine Charlotte has to offer, along with exceptional live entertainment and an outstanding silent auction, all to support Nevins.