Nevins 60th Anniversary Celebration!

We closed out this amazing 60th year of Nevins providing services to our community with a great Celebration on November 16th. We invited staff, friends, partners, volunteers and of course our participants to a wonderful night of celebrating the people that made Nevins the success it has become.
Special Thanks goes out to all of our sponsors for making this event possible.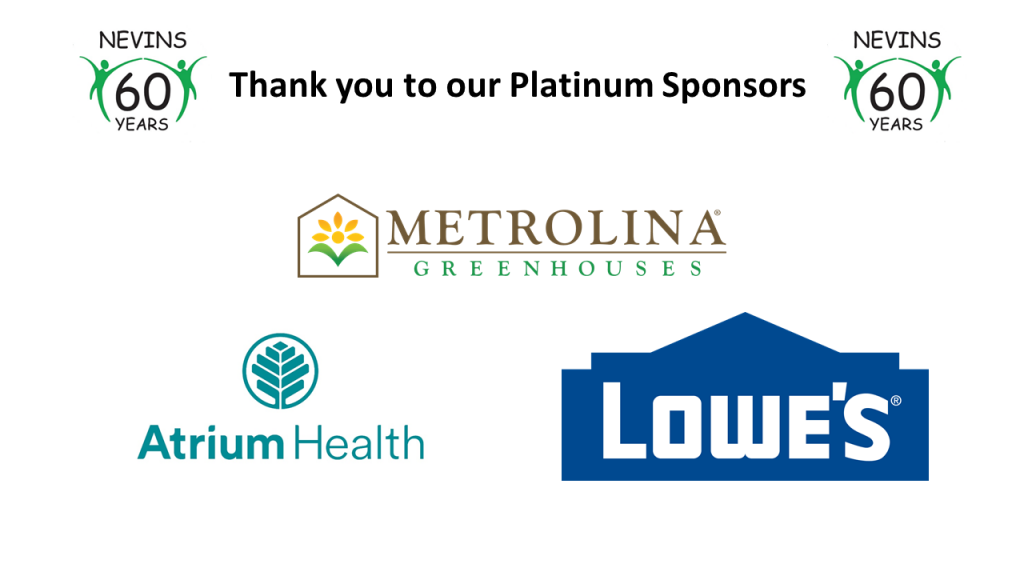 Gold Star Sponsors
Adventure Vans Cardinal Finance Sunbelt Packaging Richard L. Bovard
Bedder Bedder & Moore LPL Financial, Richard W. Schmidt
Silver Star Sponsors
Allen & Linda Behrle Hood Hargett & Associates Birdsong Brewing
Out Of The Box Entertainment Cooke Rentals Charlotte Latin School
COORS Healthcare Solutions Hampton Inn & Suites Southpark at Phillips Place
Your Office scandentHR
Bronze Star Sponsors
AMC Theatres John & Natasha Davis Glass Family New Dominion
Realty Consulting Group SASHES Snyder Paper Corporation John Miller
Former players of Nevin-Derita Little League Baseball
2019 Shining Stars
Presentation of the Shining Star Awards "The brightest stars are those who shine for the benefit of others."
Outstanding Corporate Sponsor – Atrium Health
Outstanding Corporate Donor – Metrolina Greenhouse
Outstanding Individual Donor – Matthew Ungs
Longest Participating Individual – Wayne B. (1979 – present)
Longest Serving Board Member – Richard L Bovard (1990 – 2011)
Longest Tenured Employee – Ann McCorkle (1975- Present)
Longest Community Partnership – Central Piedmont Community College
Longest Volunteer Involvement – Charlotte Latin School
Longest Annual Fundraiser – St. Anthony Foundation of Charlotte
Longest Serving Educational Instructor – Myra Robinson (1991 – Present)
Nevins Legacy Society – Robert Watkins King, Jr.
Speakers
We would also like to recognize some of the speakers who have directly impacted Nevins through the years, truly leaders in our community.
David Middleton, Board Chairman
Fred Shropshire, Emcee, News Anchor, WCNC-TV
Mayor Vi Lyles, City of Charlotte
Dr. Karen Pauly, CPCC
Crecia Keller, Atrium Health
Greg Morrill, Special Olympics of North Carolina
Bob Bowler, Special Olympics of Mecklenburg County
Gene Carney, Son of Nevins Founder
John Miller & Family
Dr. Vincent Voci, St. Anthony Foundation
Adam Lawlor, Executive Director Nevins Inc.